18.04.2019
Project presentations
Architecture from North Rhine-Westphalia.

Projects: Quartier am Eickener Markt, Longlife Wohnpark, Vanderlande Büroerweiterung, Wohnresidenz Vicus Mülfort
Quartier am Eickener Markt
We are constructing a new residential complex a stone's throw from Eickener Markt in Mönchengladbach. The Quartier am Eickener Markt has a spacious block structure. On the inside, buildings of various sizes line a central pedestrian zone. It creates a campus-like area with various paths and squares. The balanced combination of green spaces and fortified areas gives the quarter a Mediterranean atmosphere.
All buildings are white and feature window and balcony elements for a vivid visual effect. The green surroundings form an attractive contrast. We are building around 130 residential units sized from 40 to 120 square metres and a daycare centre with two groups. The location and architecture of the complex facilitates diversity both inside and out, which creates a well-rounded quarter.
Client: Vivawest Wohnen GmbH
Location: Mönchengladbach
District: Eicken
Type of building: Residential complex
Property: 11.000 sqm
GFA: 12.750 sqm
Living: 113 Residential units
Commercial: 1 daycare
Completion: 2020
Longlife Wohnpark
In Nettetal-Lobberich, a sophisticated new residential area with first-class architecture and location quality is being built in a quiet inner-city location.
The Longlife Wohnpark is designed as a unified ensemble of different types of houses and living arrangements for the demands and the life today – and for the future. Flexible and barrier-free living concepts allow living together for people in different life situations – from young to old, single, couple, family, for the coexistence of the generations or the living concept for care in old age.
House types from the semi-detached house on the detached family house to the multi-generation house offer space for individual desires and lifestyles.
The quiet residential park offers its residents also by the central city location with all important facilities, pedestrian area, shops and restaurants a high quality of living. In addition, the recreational area Maas-Schwalm-Nette with lakes and forests offers a great leisure and recreational value.
Client: Cleven Grundbesitz GmbH & Co. KG
Location: Nettetal-Lobberich
Type of building: Residential complex
Property: 16.000 sqm
Living: 65–75 Residential units
Completion: 2020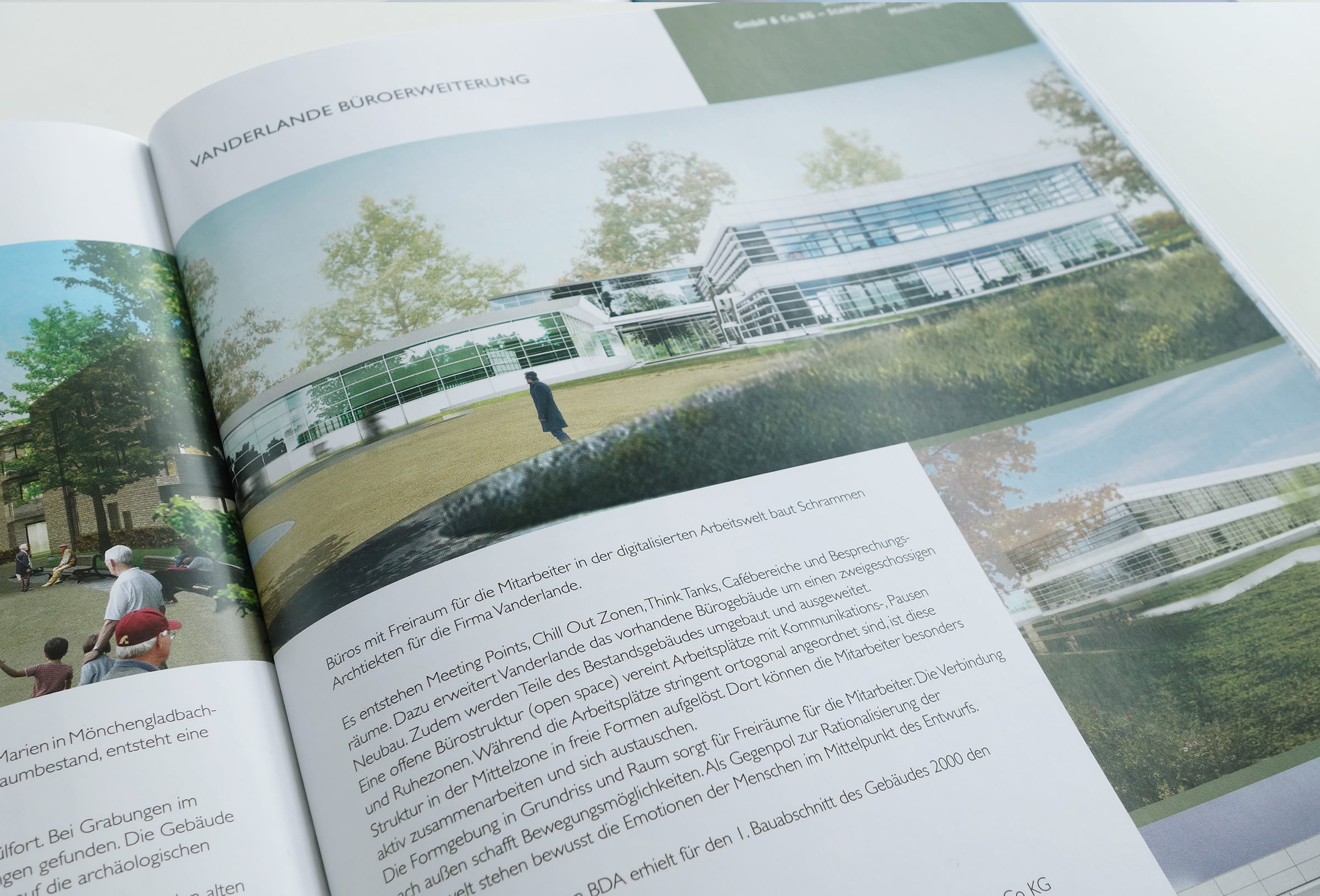 Vanderlande Office Expansion
For Vanderlande, Schrammen Architekten is building a spacious office campus for members of the digital workforce. It will feature meeting points, chillout zones, think tanks, cafés and conference rooms. Vanderlande is adding a new, two-storey building to the existing office block. Parts of the existing structure are being modified and expanded. An open-plan office structure merges desks with communication zones, break rooms and rest areas. The desk areas are arranged in a strictly orthogonal pattern, which dissolves into free forms towards the centre. Employees can use the central area to work together actively and exchange ideas.
The building layout and spatial concept provides them with free, open spaces. Direct links to the outdoors encourage movement. The architecture of the office campus constitutes a direct antithesis to the increasing rationalisation of work by deliberately focusing on human emotion. Schrammen Architekten BDA was awarded the Gewerbearchitekturpreis (prize for commercial architecture) for the first section of the building in 2000.
Client: Vanderlande
Location: Mönchengladbach
District: Neuwerk
Type of building: Remodeling and extension office – Open Space
GFA extension building: 6.000 Sqm
Completion: 2020
Living Residence Vicus Mülfort
We are building a nursing care home and three residential buildings on the former premises of the Montfortaner Missionsschule St. Marien in Mönchengladbach-Mülfort. The complex will be located in the middle of a park with old, protected trees.
Its plot is part of the ancient Roman burial grounds of Vicus Mülfort. A preliminary excavation unearthed fragments of Roman and ice age settlements. The buildings are arranged in a way that respects the archaeological artefacts and the precious trees.
In order to maintain the park-like character of the area, the new care home will be built between the old European beeches and the chestnut trees. Nine living units will provide rooms for 80 residents and 12 short-term visitors. They have common rooms and kitchens for communal activities. Large windows grant the residents scenic views of the beautiful park landscape.
Adjacent to the nursing care home, we will build three residential buildings with a total of 27 accessible one-bedroom and two-bedroom flats. Its elderly inhabitants will be able to access the care facilities of the nursing home.
The new Vicus Mülfort residential complex offers an idyllic atmosphere in a natural setting – right in the city centre.
Client: Alloheim Senioren-Residenzen SE
Location: Mönchengladbach
District: Mülfort
Type of building: Wohnungsbau, Altenpflegeheim
Living: 27 Residential units
Care: 80 residents, 12 short-term visitors
Completion: 2020