15.11.2021
The key was handed over to the "Quartier am Eickener Markt"
Symbolic key handover and marketing start on November 12, 2021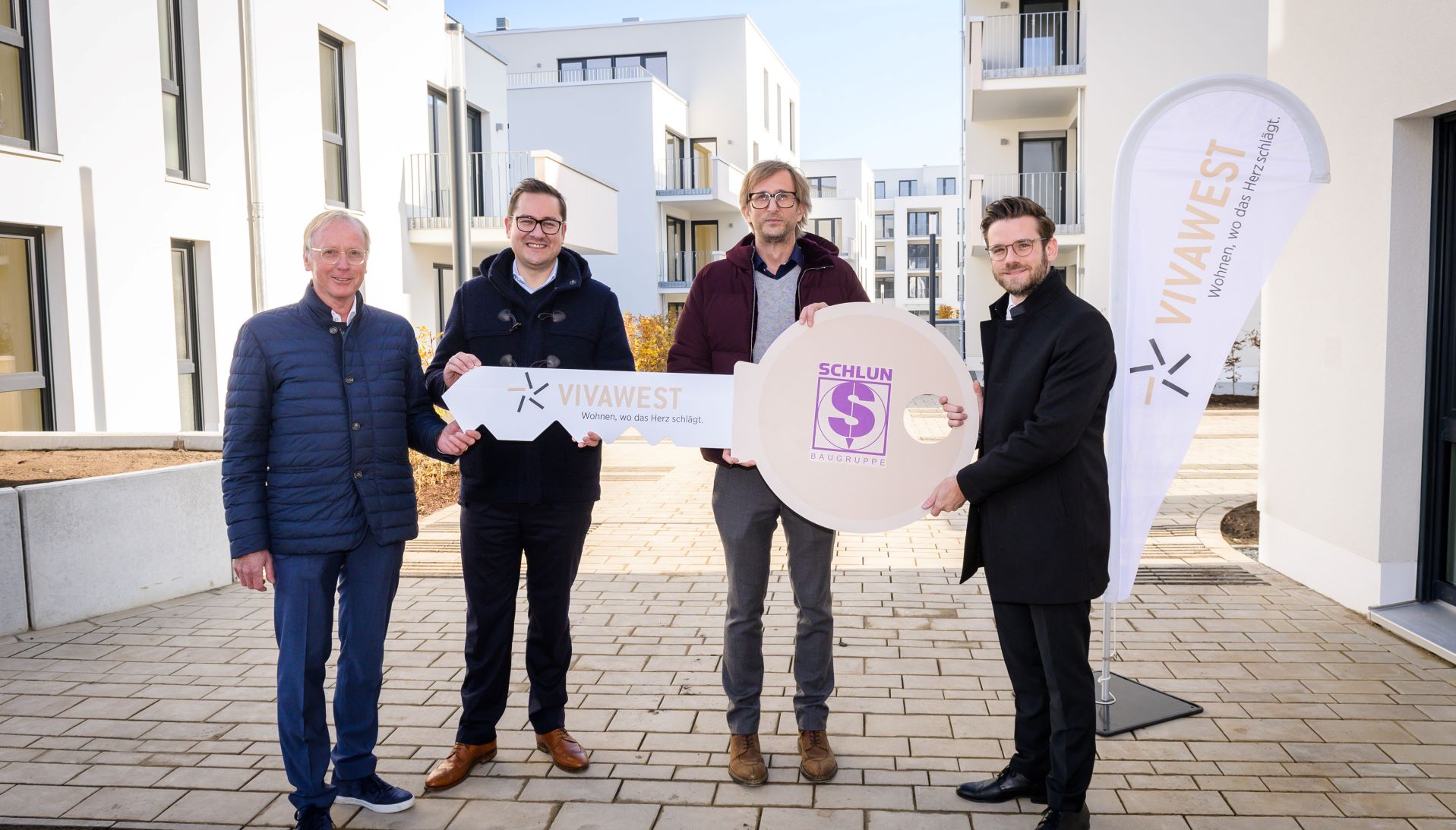 Foto: VIVAWEST
from left to right: Dr. Burkhard Schrammen, Bastian Brusinski (VIVAWEST), Björn Schlun (Lambert SCHLUN GmbH & Co. KG), Oberbürgermeister Felix Heinrichs
It's nice when a project is completed.
We are pleased that last Friday in the presence of our Lord Mayor Felix Heinrichs and Dr.
Burkhard Schrammen, symbolically the key was handed over from Lambert SCHLUN GmbH & Co.KG to VIVAWEST.
Now the marketing of the apartments we have planned and the operation of the planned day-care center can start.
The quarter on the Eickener Markt has a spacious block structure. Inside, buildings of various sizes are arranged along a main road. This forms a kind of campus with a system of paths and squares. Thanks to the balanced mix of green spaces and paved areas, the quarter develops a Mediterranean atmosphere.
The buildings are kept in white, broken up by window and balcony elements.
So they look three-dimensional.
The greenery is in contrast in color.
113 residential units in sizes from 40 to around 130 square meters as well as a day-care center for two groups will be built.
Due to its location and the architecture, which allows for diversity both inside and outside, a well-rounded quarter is created.
Are you interested in one of the rental apartments?
Contact VIVAWEST, you can find out more on their pages, which we have linked here: