22.08.2019
German Design Award Nominee – Roermonder Höfe
The award recognizes innovative products and projects, their manufacturers and designers.

We are pleased that the »Roermonder Höfe« – the first major inner-city project for modern living and working in Mönchengladbach – was nominated for the German Design Award 2020 by the German Design Council.
The German Design Award is the international premium prize of the German Design Council. The award honors innovative products and projects, their manufacturers and designers, which are groundbreaking in the German and international design landscape.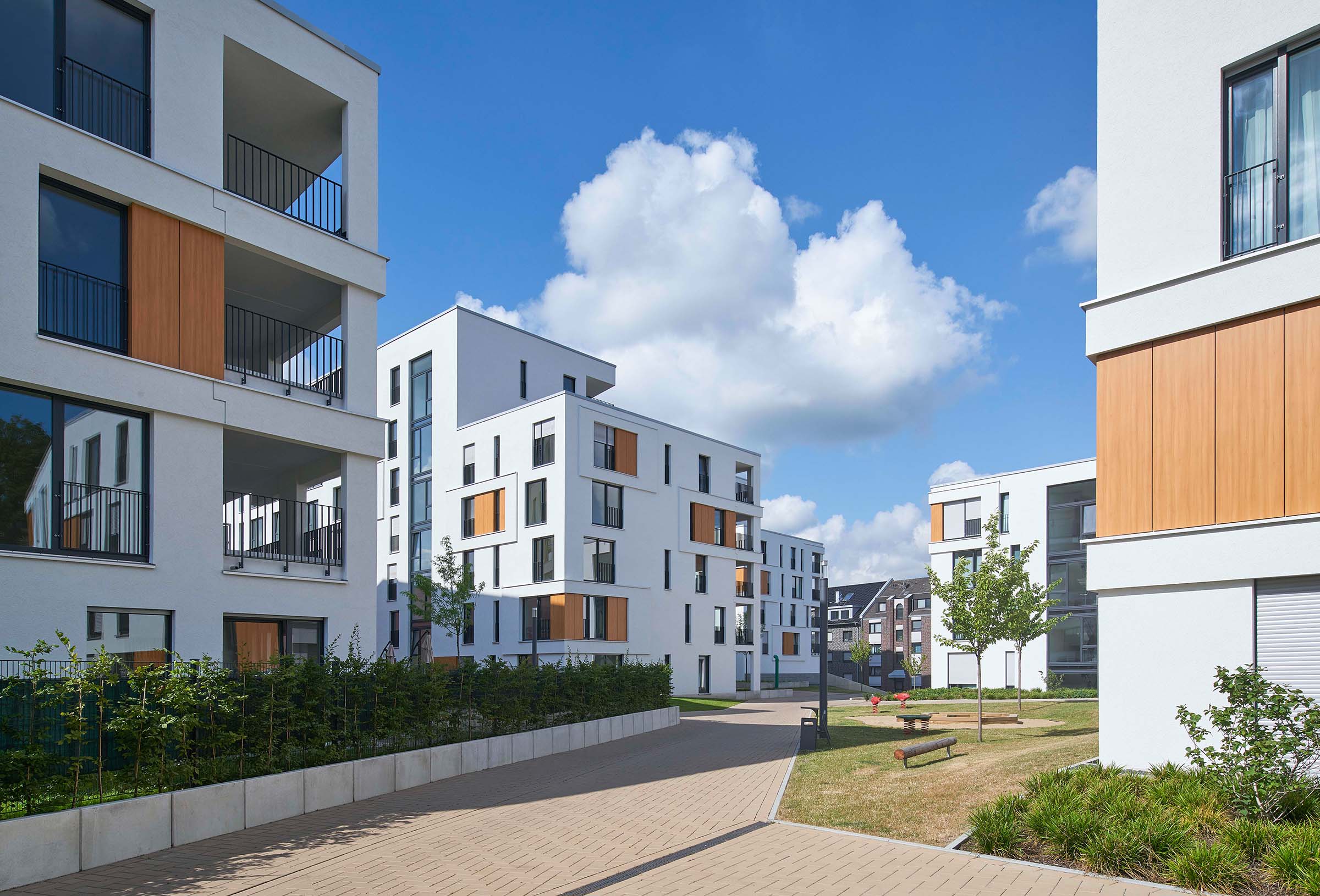 Roermonder Höfe
We are turning the city centre back into a pleasant living and working environment. City centres attract people from all walks of life and with very different requirements. The new landmark at the foot of the Abteiberg is a striking response to this trend.
Seven detached houses with polygonal layouts form an attractive complex of residential and commercial buildings. Each has between four and seven stories. The concept draws on the Dutch approach to urban planning: instead of separating workplaces and residences from the public sphere, the public is brought into the quarter.
The new quarter does not have a typical perimeter block structure. Instead, the buildings face the street in line with the existing north/south relation towards the centre. In the interior of the quarter, the staggered buildings are interlinked like fingers to create space for eight expansive courtyards. A public walking path runs diagonally through the complex. It traverses a landscaped garden of trees, paths, lawns and water that is designed as a reference to the former Gladbachtal valley. It pays homage to the area's past.
The seven-storey commercial units at Roermonder Höfe face the Fliethstraße; their striking superstructures resemble colonnades. Residents, employees and visitors benefit from the daycare centre and the local restaurants facing the inner courtyard.
The lower storeys of the buildings along the Fliethstraße offer ample parking for commercial tenants. At the same time, this row insulates the inner courtyards from the noise of the Fliethstraße to ensure a pleasantly quiet environment.
The residential buildings of Roermonder Höfe face the Lüpertzender Straße. All flats in the three four-storey houses will be barrier-free to ensure easy access for people with disabilities. The flats in the five-storey parts of the Fliethstraße buildings are also barrier-free and easily accessible. All residential buildings offer residents and their visitors direct access to one of the underground car parks.